A cocktail party is a great opportunity to show off your style and have some fun with your outfit. There are no hard and fast rules for what to wear to a cocktail party, but there are a few key things to keep in mind. When choosing what to wear to a cocktail party, think about the type of party it is. A more formal cocktail party might call for a dress or skirt and blouse, while a less formal party might allow for a more relaxed look, such as slacks and a blazer or a dressy jumpsuit. Here are some great suggestions for what to wear to your next cocktail party.
Delicate Jewelry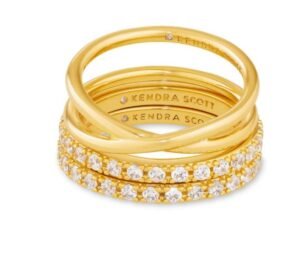 For a cocktail party, you'll want to wear accessories that feel dressy but not too formal. If you want to start building your outfit with accessories first, women's rings are a great way to add a touch of personality to your outfit. Rings come in all shapes and sizes, so there's sure to be a style that suits your personality. From simple yellow gold bands to bold statement rings, there's a ring for every occasion. And you'll find different types of women's rings for formal events or cocktail events at Kendra Scott.
Comfort Meets Style
When attending a cocktail party, it is important to dress appropriately. This means wearing clothing that is stylish and comfortable, and that will make you look your best. Choose a dress or skirt that is knee-length or shorter. Make sure that it's comfortable enough for you to feel confident. Avoid wearing too much makeup with your cocktail attire, and make sure to wear comfortable shoes that will not rub or pinch.
A white cocktail dress or an open-back dress will make you stand out from the crowd. If you are not sure what to wear to a cocktail party, it is always best to err on the side of caution and dress up a bit more than you normally would. This will ensure that you look your best and that you will feel comfortable at the party. A dress is always a classic choice, and it can be leveled up or toned down to suit the occasion. For a more formal party, add a jacket or shawl to your white dress. And for a more casual party, go with simple accessories. Whatever you choose, make sure you feel confident and comfortable in your outfit. Read more about 5 unique ideas to advertise your jewelry business.
Cocktail Party Shoes
When it comes to dressing for a cocktail party, you want to choose shoes that will make you look and feel your best. A pair of high heels is always a great choice. They make you look taller and more confident, and they can add a touch of glamour to any outfit. Wedges are another great option for cocktail parties. They are dressier than sandals or flats, but they are still comfortable enough to wear for a few hours.
Sandals are great for summer parties, especially if they're worn outdoors. They are dressy enough to wear at a formal event, but they are also casual enough to wear at a more relaxed gathering. Flats are not the best choice for cocktail parties, but it definitely depends on the style. At the end of the day, you should choose footwear that is comfortable and stylish. You can always dress them up or down depending on the occasion and the atmosphere of the party itself.
So, what do you wear to a cocktail party? The answer is whatever makes you feel comfortable and confident. With the right accessories, you can look your best and have a great time at the party.