There's never been such an ideal time to fire up that grill and cook a delectable meal for you and your loved ones. It provides you with the right opportunity to bust out your cooking skills, whether it's for yourself or an audience. Either way, the end product will surely smile on your face and your stomach! The setting is one of the most significant aspects of a memorable BBQ besides the food. If paired well with the food, the ambience will take your BBQ grill experience to another level. So, to create this kind of environment, decorating the area thoughtfully and uniquely is of the utmost importance. Not only is it beneficial for the experience, but you might find this process fun as you unleash your creative side! 
If you have been looking for decoration inspiration, you have come to the right place! Here are some BBQ grill area ideas for you.
Enchanting environment:
A beautiful and aesthetic idea for your BBQ grill area is to spruce it up with magical and enchanting elements. Fairy lights do most of the work when creating such a setting. String fairy lights along fences, trees, and even above your grill station while opting for warm, golden-coloured lights to create a cozy and ethereal ambience. Choose lights in different shapes and sizes to add fun to this fantasy world.
You might also consider lighting up the pathway to the BBQ area. Leading your guests through this mystical adventure to reach their destination will add even more allure to the meal. Use lanterns, mason jars, or even glass orbs filled with lights to guide the way. This is also a good and aesthetically pleasing way to light up the space as the day darkens.
Try incorporating nature elements in this zone. This could be filling it up with greenery from plants, bushes, and trees, as well as heaps of gentle colours in the eyes of flowers. Create a seating arrangement from wooden materials to give a fairy-like charm. Integrate natural materials like stones and branches into your decor to enhance the magical atmosphere.
Cozy zone: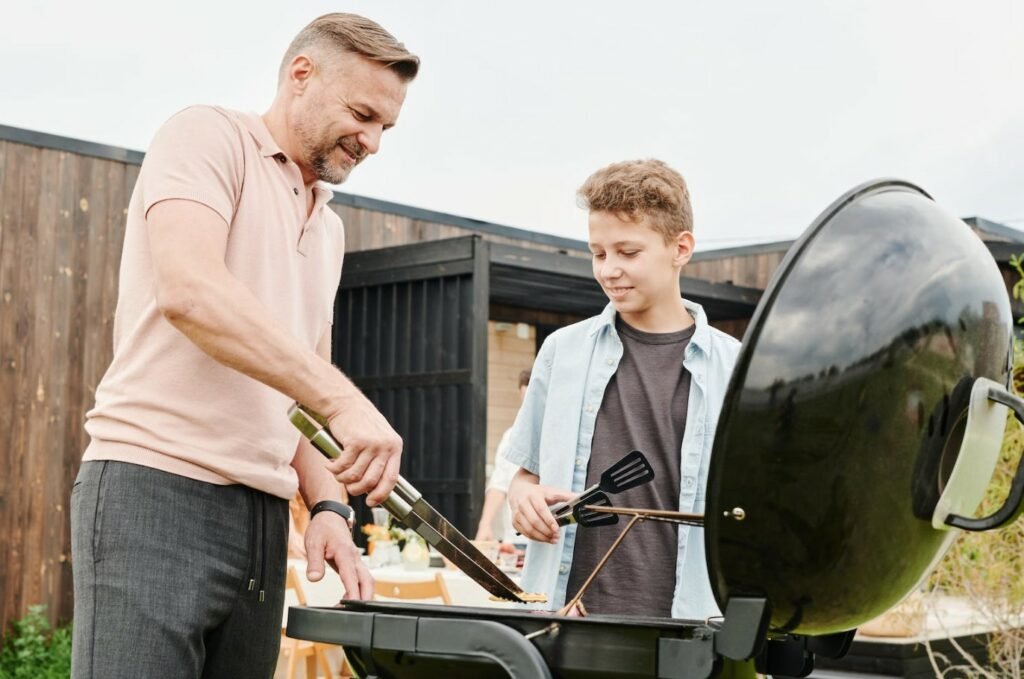 Eating and comfort should be provided when enjoying a freshly grilled meal. Start by identifying the area where the furniture should be placed. Make sure that the foundation you lay on is stable, as a bumpy and uneven one would be uncomfortable. There should also be ample space for people to walk around and sit. Opt for comfortable seating options that encourage relaxation. Consider weather-resistant sofas, chairs, benches, and cushions made from durable materials that withstand outdoor conditions. Elevate the comfort factor by decorating your seating with plush cushions and cozy throws in your favourite colours and patterns!
Position your seating to encourage conversation and interaction. Create cozy clusters of chairs or benches that face each other to facilitate easy communication among your guests. You should also place coffee or side tables near the seating arrangements so you and your guests can easily place things down without getting up. 
Shelter:
Why limit your grill space use to when the weather allows it? Take control of this by creating shelter in the zone so you can use it year-round! A fancy-looking option could be a gazebo. This enclosed structure protects against rain, wind, and snow. It offers privacy and seclusion, making it an ideal space for intimate dinners or quiet reading. While you can get large gazebos to cover more area, you can also find smaller ones that fit well into your grill space.
Even simple beach umbrellas may do the trick if you live in an area that does not receive intense rainfall or is not intense at that time of the year. Additionally, this will create a more chill and beach-like feel for dining!
Fun zone:
Many love entertainment while dining. This could be in the form of conversation, games, television, etc. Set up a fun zone in your BBQ grill area to cater to everyone's wants and needs. This could be getting a Jenga set placed in the area or board games like Ludo, Snakes and Ladders, etc. People also love to watch entertainment platforms while eating, such as sports games or movies. 
Creating a place for a television to be kept or projected could create a comfortable spot for people, making it difficult to leave! Another suggestion would be to install a good-quality music system in the area so people can dance, listen to fun music, and eat simultaneously.