Guangzhou Nuocai Digital Products is china leading supplier of high-quality digital products. The company offers UV LED digital printers. It is also one of China's largest suppliers of digital media products.
With years of experience and a strong R&D team, the company produces a wide range of digital products, from smartphones to video surveillance systems. The company's products are well-known for their quality and reliability. They have a perfect team that distributes their product overseas with responsibility. With Nuocai's printers, you can easily print anything from documents to photos.
Digital printers are great for high-resolution photos, but what about printing in color and using varnish? Nuocai has the perfect solution! You can create professional-quality prints with 2400DPI white ink, color ink, and varnish printing simultaneously. In addition, these printers are easy to use and make printing your photos a breeze.
Noucai digital printers
UV printers have become an important part of the printing industry because they can print on various materials that other printers cannot. UV printers are also faster and more accurate than other printers. The company specializes in the production of UV printers for the printing of protective coatings and other applications. The printers meet the industry's specific needs, and they print images that must be resistant to UV radiation. Below are some top products of Noucai digital printers.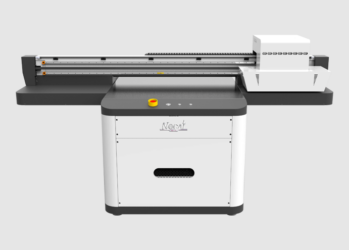 Industry UV printer
They create NC-Cylinder ELF II for the thermos cup business. They create NC-UL600 for better height requirements. And they make NC-UV1013 for large-format product printing Nocai creates the industry UV printer for the industry needs.
For small models, we provide NV-UV0406, NC-UV0609X, and NC-UV0609PE, three series of digital printing machines for you to choose from at reasonable prices. It is the best choice for your venture capital.
Small UV Flatbed printer
 NV-UV0406, NC-UV0609X, and NC-UV0609PE printer machines are available at Noucai.UV small flatbed printer can handle a variety of tasks. This type of printer is perfect for printing small pieces of paper, labels, and other small items. Not only do they have smaller sizes, but they also have a low cost of ownership and can print quickly.
Why should you get UV LED Printer?
UV LED printer is a kind of high-speed printing equipment. It has many advantages such as low noise, small size, less energy consumption, and pollution.
ECO Solvent LED Printer with extra ink filters
An additional benefit of the UV LED printer is that it does not need an ink filter. The solvent printer uses a filter to trap the excess ink and prevent it from spilling on your clothes. However, this also slows down your drying process by adding time to clean up. With the UV LED printer, there's no need for an ink filter!
LED UV flatbed printer with power supply handle
The UV flatbed printer with a power supply handle is one of our most popular printers because of its versatility and affordability. This model has a large print area, allowing you to print larger designs and logos on various materials. It features automatic registration, allowing you to print your design quickly and easily without worrying about manually aligning each layer like you would with other printers.
LED UV PRINTER Automatic cleaning with air compressor and air tank
Not only can you print on your UV printer, but also you can clean it automatically by using the "air compressor" function. When the printer becomes dirty or dusty, switch on the device and select a suitable cleaning program. After a few minutes, you will see that your printer is completely cleaned of dust and dirt.
Final Words
We hope this article has given you a better understanding of the benefits of using a UV LED printer. You can go now to the Nuocai website for UV printers. The vacuum cup, advertising, stationery, and skin care industries can get digital printing services.