Even though the kitchen's utilitarian purposes are cooking, storing utensils, beverages and snacks, it is the most used space in a house. Modern kitchens play an even bigger role than providing sustenance – they can also be a place of healing and entertaining and can be styled to reflect different preferences and tastes.
Designing any space starts with inspiration. Your vision for your kitchen must encompass adequate storage and sufficient space to fit all the necessary appliances and can be organized to make preparing meals easy and practical.
Modern kitchen designs should include every essential element (worktops, appliances, cabinets, layout, etc.) to combine aesthetics, function, and technology. A successful kitchen design should offer you convenience, flexibility, and streamline cooking and cleaning. Here are some simple and sleek design ideas for creating a modern kitchen.
What Design Ideas to Incorporate in Creating a Modern Kitchen: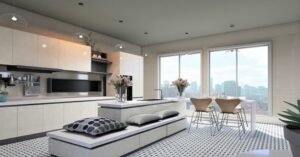 Let in an Ample Amount of Light
When renovating a closed kitchen area, you should try to incorporate a window that lets light stream in abundance and give the illusion of a bigger space. Incorporating a window might take up some of the space you need for storage, but at least your kitchen won't feel or appear claustrophobic.
Smooth, Streamlined, and Morden Cabinets
When it comes to picking out cabinets, it's essential to remember that they are the most crucial and defining elements of a kitchen. Replacing outdated, worn-out cabinetry for something more sleek and eccentric like Malibu white shaker cabinets can give your kitchen a modern, classy look.
Kitchen islands are the most exquisite, most refined feature to incorporate in a modern kitchen. Kitchen islands eliminate the need for a separate dining space and provide more room to prepare meals flexibly. Simply adding a marble, granite, butcher's block, or ceramic tile kitchen island with a few swivel bar stools can give your kitchen a sleek, modern edge.
Extend Cupboards to the Ceiling
While high shelves might be hard to reach, utilizing the space above your cabinets is vital. Hire a contractor to extend your cabinetry to the ceiling. This will give you more room to store kitchen items and give your kitchen a simple, sleek look.
Get Creative With Storage Options
Ample storage will make it easier for you to clean and organize your kitchen, and the level of organization of your kitchen can either add to or take away from its general aesthetic. You can install drawers, add shelves above the sink, racks for pots, hooks for cutlery, and magnetic knife strips. Nothing says sleek like a well-organized kitchen. Read more about How to Choose the Right Bathroom Basin: Think Outside the Sink Box.
Stick to a Similar Hues or Single Palette
Incorporating similar shades is the safest way to attain a sleek, expansive look with zero obstructions. However, if you'd like to experiment with other colors, it's best to stick to 2-3 variations. You could also take a more minimalistic approach to add color to your kitchen with a neutral backdrop and brightly colored cabinet handles, appliances, or backsplash.
Opt For an Open Layout or Design
Open kitchen designs are an ideal option, especially for small kitchens but can add to the aesthetic appeal of any kitchen size. An open kitchen layout allows your kitchen to flow into the adjoining room, naturally giving you the modern look you are trying to achieve.
Infuse Life Through Plants
Decorating any space with plants and flowers can instantly bring more life. Many modern homeowners are adopting a likability to houseplants for their aesthetic appeal and other benefits. A little dose of fresh, potted greenery can revive even the dullest kitchens.
Create a Kitchen That Sustains You in More Ways Than One:
Kitchens are one of the most important spaces in every house, and like most spaces, they can be designed to match the homeowner's personal style. Whether you are going for a contemporary look with simple and sleek designs or a traditional look that combines unique styles, there's no limit to your kitchen's potential. However, it is vital to keep in mind that achieving your kitchen's aesthetic appeal should go hand in hand with its level of functionality.